Fable (An Unfortunate Fairy Tale Book 3)
[[Image:|258px]]
Book UnEnchanted
author
Chanda Hahn
date
August 27, 2013
[Source]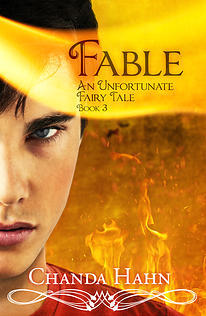 All that glitters is not gold.
When something precious is stolen from sixteen-year-old Mina Grime, she will do anything in her power to get it back, even if it means traveling to the dangerous Fae plane and battling one of the strongest fairy-tale villains yet.
However, nothing can prepare Mina for the dangerous obstacles she will face in the Fae world, or the choices she must make when love and life are on the line
Quotes:
"gray eyes bored into hers. His face filled with emotion, and his own eyes looked to be just as tear-filled. "Do you really not know the reason why I came? I came back for you. I'll always come back for you."
"Sometimes love is worth fighting for. And if you don't fight for it, then it slips through your fingers."
"A thousand sweet words can never disguise the rattle of a viper about to strike. I will not drop my guard ever again. And I will end this curse…by doing whatever…or killing whoever…I have to."

"I would never abandon you. I will always be there to catch you when you fall."